Contributing ideas and suggestions is an important part of playing video games, especially for Mr. Mine – an idle mining game developed by Playsaurus.
Not only to keep your gaming experience smoother but providing suggestions also help the game evolve and shape future development, including new features and gameplay.
In this article, let's learn where and how to contribute ideas and suggestions to Mr. Mine.
Understanding Mr. Mine Idle Game
Mr. Mine is an idle mining game where you have to manage your miners (and super miners), resources, and drones to dig as deep as possible into the world.
With each dug kilometer, you have a new mineshaft to which you can send miners to mine for more minerals. As an aspect of an idle clicker game, overtimes, you'll have a lot of workers and minerals in your inventory.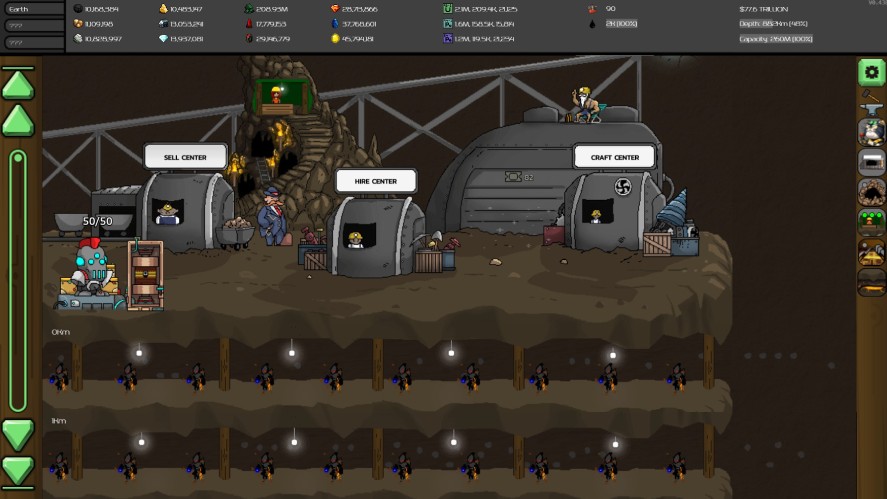 Besides the minerals, the incremental and upgrade aspects of Mr. Mine Idle also show by the money you earn, the drill upgrades you have, the game achievements (quests) you unlock, and a lot more.
Mr. Mine Idle continues to receive updates from Playsaurus, with more and more features added to diversify the gameplay, as well as bugs fixed to improve the overall idling experience.
The Importance of Player Feedback
Feedback is always a great gift to anybody in any context. And in the gaming industry, the player's feedback plays a huge role in helping developers to find what their players need.
Once the developers figure out the ideas and suggestions from their game community, they can develop the game in the right direction, creating a win-win situation for both sides.
For example, when Final Fantasy XIV was released in 2021, it had so many issues and, of course, led to negative player feedback about technical issues, gameplay mechanics, and confusing user interface.
The game then made a big comeback three years after the release date and received so much possible feedback.
This success is due to the player feedback, as well as the effort of the game developers and publishers who have taken the responsibility seriously.
Platforms for Contributing Ideas/Suggestions for Mr. Mine
Unlike other games, Mr. Mine currently doesn't have an in-game feedback feature.
While we have multiple communities and social platforms, Discord is the best platform to contribute ideas and suggestions for Mr. Mine.
Simply click the button below to join Mr. Mine Idle Discord!
Once you've joined Discord, locate the #ideas-and-suggestions channel in the Text Channels category to start contributing. Do it now, as we'd love to hear any game suggestions from our players!
Sometimes while playing Mr. Mine, you'll see a new small icon in the top left corner of your mineshaft, indicating a survey or poll from Playsaurus.
Filling out the survey is recommended, as it helps us to develop the game better. In addition, completing the poll or survey also grants you small rewards 😉.
Helpful Tips for Providing Effective Feedback
Not all Mr. Mine players know how to provide feedback; that's why you should carefully read the Discord server rule before contributing.
Overall, when giving out an idea for other players to vote and for the developers to see, you must put the phrase "Idea:" before your actual idea.
For example, to contribute, go to the #ideas-and-suggestions channel and type:
Idea:a new type of miner that can automatically open chests for you.
And that's it! If your game idea and suggestion are great and are received positive signals from others, they can make their way to the game in a few weeks or months.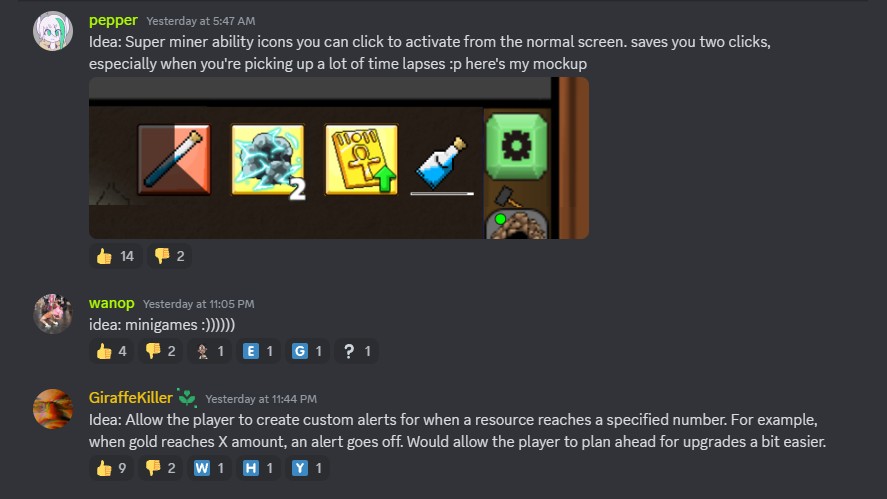 Moreover, remember to chill out, be respectful, and be constructive when giving ideas and suggestions. We're friendly miners, and together we fight the monsters in the mineshaft, not fighting each other, right?
In addition, being specific and offering a clear solution with your feedback can also help the developers a lot, as they can easily understand your suggestions for what will be incorporated into Mr. Mine.
Alternatively, you're not the only one who provides ideas and suggestions. Instead, there are hundreds of players just like you who want to contribute. So, if you see a great idea, make sure to support it as well.
Conclusion
And that's how and where to contribute ideas and suggestions to Mr. Mine Idle.
The game will keep moving forward, just like an idle game. However, the speed at which it develops depends on a portion of gamer feedback.
That said, if you enjoy the game and have any game contribution ideas, feel free to join our Discord and discuss them with us. On behalf of Playsaurus, we thank all players who contributed to the game and made it more enjoyable.