Are you a fan of Mr. Mine Idle developed by Playsaurus? Discover the vibrant and engaging community on Discord that's all about this popular mining game.
In this article, we'll guide you on how to join the Mr. Mine Idle Discord community and explore the numerous benefits that await you.
Understanding Discord and MR Mine Idle's Channel
Discord is a powerful platform that connects gamers and fosters game community interaction.
The Mr. Mine Idle Discord Channel is a dedicated space for players to discuss the game, share experiences, and seek help.
Let's take a closer look at the different chat rooms available on the channel!
Chat Rooms in Mr. Mine Idle's Discord Channel
Announcements: Stay up-to-date with official information, updates, upcoming releases, events, and exclusive redeem codes for exciting in-game rewards (tickets, timelapses, and Ethereal chests).
Rules: Familiarize yourself with the guidelines and community rules to ensure a positive and respectful environment for everyone.
How to get roles: Learn how to obtain Discord roles based on your in-game depth progression.
Where to play: Find out where you can play Mr. Mine Idle, whether it's on PC, iOS, or Android.
General chat: Engage in everyday conversations about the game, ask questions, and share your thoughts. Off-topic discussions are welcome in their respective channels.
Media and memes: Share your favorite Mr. Mine Idle memes, fan art, and entertaining media content.
Bugs and issues: Report any bugs or technical issues you encounter while playing the game. Remember to follow the reporting guidelines for effective communication.
Ideas and suggestions: Contribute your ideas and suggestions to improve the game and discuss them with the community.
Strategy and questions: Delve into the depths of game mechanics, strategies, and seek advice from experienced players.
Off-topic: Take a break from mining and engage in non-gaming discussions in this casual chat room.
In addition to these chat rooms, Mr. Mine Discord also offers voice channels for real-time communication and additional channels in various languages to cater to a diverse player base.
How to Join the Mr. Mine Idle Discord Community
Joining the Mr. Mine Idle Discord community is simple and easy. Follow these step-by-step instructions to become a part of this vibrant community:
Register a Discord account if you don't have one. Visit discord.com and sign up.
Once your account is ready, click here to get the invitation link.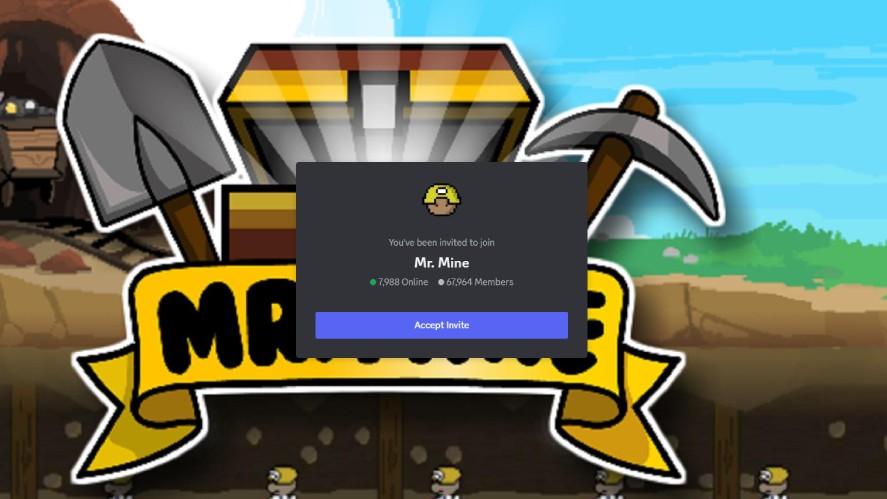 Once you see the pop-up below, click on "Accept Invite".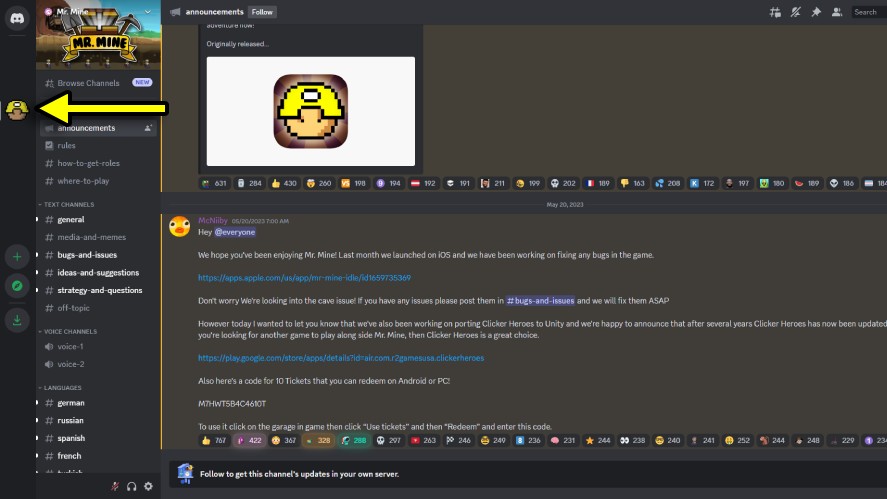 Congratulations! You're now in Mr. Mine Idle Discord!
Why You Should Join the Mr. Mine Idle Discord Community
The Mr. Mine Idle Discord community offers a wealth of opportunities for players to connect, collaborate, and enhance their gaming experience.
Let's explore the various reasons why you should join this vibrant community and the benefits it brings!
1. Community Support
When you join the Mr. Mine Idle Discord community, you gain access to a vast network of players, developers, and publishers who are passionate about the game.
The community provides a platform for support and assistance where you can seek help with game-related issues. Whether it's about miners, upgrades, super miners, minerals, isotopes, or trading techniques, the community got it all!
It offers valuable solutions and helpful tips, from troubleshooting technical problems to overcoming challenges.
2. Sharing Experiences and Game Achievements
Sharing your game experiences and quests is an integral part of being part of the Mr. Mine Idle Discord community.
Celebrate your milestones, and achievement list, discuss strategies, game guides, and engage in conversations with fellow players who understand your triumphs and challenges.
Sharing your accomplishments builds camaraderie and inspires and motivates others on their mining journey.
3. Staying Updated
The Mr. Mine Idle Discord channel serves as a reliable source for staying updated with the latest game updates, events, and redeem codes.
Be the first to know about new features, patches, and exciting events happening in the game.
Stay ahead of the curve and maximize your gaming experience with timely information and exclusive quest rewards.
Conclusion
You unlock a world of possibilities by joining the Mr. Mine Idle Discord community.
Engage in discussions, seek support, share your experiences, and stay up-to-date with the latest happenings in this idle mining game.
Connect with fellow players who share your passion for Mr. Mine Idle and embark on an unforgettable mining adventure together.
Join Mr. Mine Discord Now!